Conductor: Ken Marrs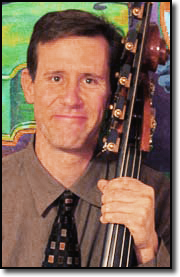 Mr. Ken Marrs returns as our 2017 conductor, in our 41st year.
Originally from Detroit, Michigan, Ken Marrs began studying the double bass with Derek Weller and Stuart Sankey. He received a Bachelor's of music education in choral and instrumental music from Indiana University where he studied bass with Bruce Bransby and Lawrence Hurst. He received his Master's in choral conducting under Maurice Skones at the University of Arizona.
Ken has performed with the Ann Arbor, Flint, Saginaw Bay, Toledo, and Tucson Symphony Orchestras, the Arizona Opera Company as well as True Concord, formerly the Tucson Chamber Artists, where he also has performed as a vocalist. Ken has taught music and performed with orchestras on four continents. He played electric bass in a 13 piece band that accompanied the Artifact Dance Ensemble's tour of China.
Ken enjoys hiking, biking, swimming, yoga, camping, and the outdoors.
We'd like to thank the dedication of all of our performers. We are fortunate to draw our talented musicians from all across the greater Tucson area. Thank your for your contribution to the performance.
Soprano: Mary Paul
Alto: Korby Myrick
Tenor: Hugo Vera
Bass: Armen Dirtadian